How BoYo Can Help You Meet Your Calcium and Iron Needs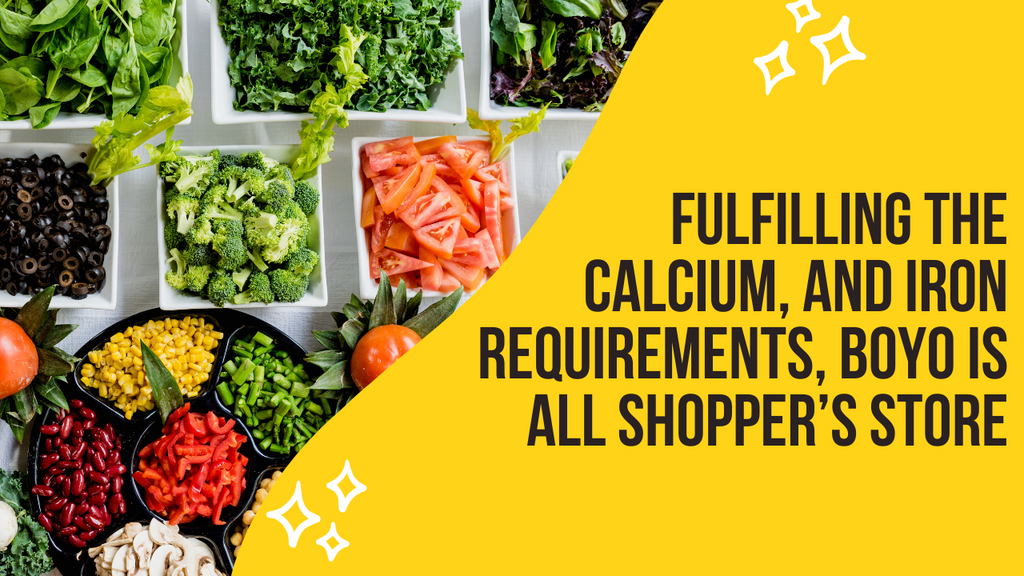 A lack of calcium, iron, protein, minerals, and so on may not appear to have serious consequences. However, only those who suffer from these deficits are aware of their severity. Living with a calcium or iron shortage may be quite difficult.  
Many unpleasant illnesses and disorders result from a shortage of necessary components, including osteoporosis, bone difficulties, weakness, tiredness, dizziness, impaired vision, reduced hemoglobin levels, and many more.
Furthermore, these issues may not always emerge at a specific age; rather, they might occur in children and adolescents. The dietary habits and patterns that an individual follows play a significant part in all of this. 
Thus, it is critical to have a decent nutritious diet that is nutritionally dense and has all of the vital components and nutrients required for the body's normal smooth functioning and an active lifestyle. As a result, it is critical that we all become conscious enough to modify our harmful dietary patterns and understand our true body's needs. Junk and quick foods will only exacerbate the situation; hence it is essential that these be fully eradicated from everyone's lifestyles. 
The Significance of Calcium and Iron
Calcium is well-known for its function in the maintenance of strong bones and teeth. 

 

Muscle function, neuron transmission, and hormone control are also involved. 

 

Similarly, iron aids in the transport of oxygen throughout the body, the creation of energy, and the maintenance of a healthy immune system. 

 

Calcium and iron deficiencies can cause osteoporosis, reduced immune function, tiredness, and anaemia, among other health problems. 

 

To maintain maximum health and energy, we must prioritize these nutrients in our diet.

 
The Challenges in Meeting Calcium and Iron Needs
While the importance of calcium and iron is generally acknowledged, many people find it difficult to attain the required daily consumption. 

 

Busy schedules, limited access to fresh and healthy food, and dietary restrictions can make obtaining enough levels of these vital nutrients challenging. 

 

That's where BoYo comes in, offering easy and nutritious snack alternatives that are high in calcium and iron.

 
Introducing BoYo as the Solution
BoYo, the new era bold snacking brand, is a one-stop answer to all your issues.

 

 

BoYo

 

is recognized for the most sought and most loved snacks of all, providing the healthiest but yummiest snacking varieties of all. 

 

Whether it's sprouts or trail mixes, crispy strips or fresh nuts, they're all nutritionally dense and healthful, natural and fresh, and deliciously enticing. 

 

So, get your health and flavor packs from BoYo today, and complete your iron and calcium demands in the most delightful and savory enjoying experience of taste ever!!

 
Revolutionizing Healthy Snacking
BoYo is not your typical snack brand.

It is a digital-first nutrition-snacking business that seeks to change the way we think about healthy snacking. 

 

BoYo's unique products are meticulously created to meet the nutritional demands of health-conscious customers. 

 

BoYo guarantees that every mouthful is filled with the benefits of calcium and iron by using natural and fresh ingredients, providing a guilt-free snacking experience.

 
The Benefits of Choosing 
BoYo
:
BoYo distinguishes apart from the pack when it comes to munching. 

 

Its diverse selection of delectable and enticing snack alternatives offers a unique balance of health and taste. 

 

BoYo has you covered whether you're craving sprouts or trail mixes, crispy strips or fresh nuts. 

 

Each product has been meticulously developed to be nutritionally dense, ensuring that you obtain your daily amount of calcium and iron while enjoying tasty pleasures. 

 

You no longer must choose between health and taste with BoYo.

 
Quality Ingredients, Tasty Delights
BoYo is devoted to sourcing high-quality ingredients from reputable vendors. 

 

The brand focuses on mixing nutrient-dense ingredients into their snacks to ensure that you get the most out of every mouthful. 

 

BoYo's products are high in critical nutrients, ranging from healthy nuts and seeds to dried fruits and whole grains. 

 

BoYo has successfully designed a selection of snacks that appeal to the desires of health-conscious consumers by prioritizing flavor without sacrificing on health.

 
Catering To Dietary Preferences
Inclusion is essential at BoYo. The company knows that people's dietary preferences and limitations vary, which is why they provide a wide range of snacks to meet a variety of dietary requirements.

 

 Whether you follow a vegan, gluten-free, or dairy-free diet, BoYo offers solutions to meet your needs. Everyone, regardless of dietary choices, may enjoy tasty and nutritious snacks with BoYo.

 
Testimonials And Success Stories
Don't just take our word for it; let the testimonials of happy customers do the talking. 

 

Many people who have included BoYo in their daily routines have noticed notable increases in their calcium and iron levels. 

 

Consumers have spoken about their success stories, bragging about their healthier general well-being, stronger bones, and more vitality. 

 

Your health goals will be easier to reach than ever with BoYo.

 
Conclusion
It is critical to prioritize your dietary needs in a society where health is key. Increasing your calcium and iron consumption is now easier and more pleasurable than ever, due to BoYo's unique and delectable snacks.
With BoYo, you can enjoy every mouthful while providing your body with the nutrients it requires. Switch to BoYo now and start your road to a better, happier self and your body will appreciate it too.