Pistachios: The Super Healthy Nut and Worth Cracking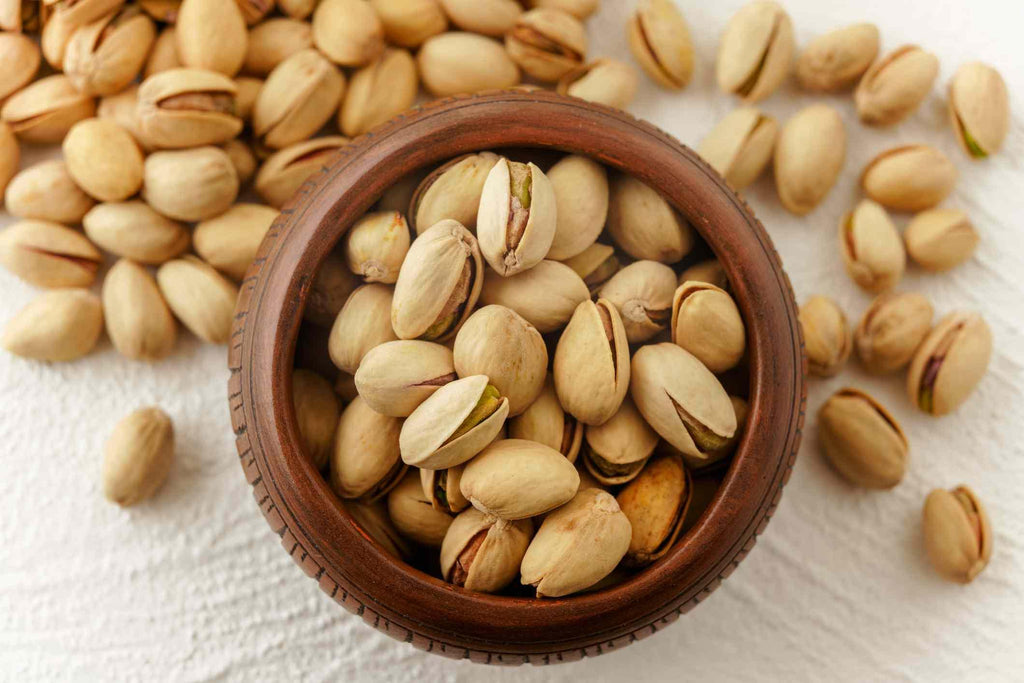 Salted Pista is not only Fun to eat but also super healthy. These edible nuts are a good source of protein, fibers, and antioxidants, and contain within them extremely healthy fats.
The bonus news is that they contain several essential nutrients that aid in weight loss management, along with heart and gut health! Pistachios are very nutritious, consisting of healthy fats, carbs, fiber, protein, potassium, phosphorus, copper, manganese, and thiamine. 
Introduction
A tasty and healthy treat that has been loved for ages is pistachios. They are a good source of fiber, vitamins, and minerals as well as protein. Pistachios are a healthy snack option for persons seeking to reduce weight or maintain a healthy weight since they are low in calories.
Vegetarians and vegans can acquire enough protein from pistachios. Protein may make you feel full and satisfied and is necessary for the development and repair of tissues. Iron, magnesium, and vitamin B6 are just a few of the additional minerals found in pistachios that vegetarians and vegans should pay attention to.
What are pistachios
The pistachio tree, which is indigenous to Central Asia, produces pistachios as its seeds. The tree, which belongs to the cashew family, yields a green, hard-shelled nut. Before eating, pistachios are commonly roasted and salted.
Pistachios Nutritional Profile
Protein, fiber, vitamins, and minerals are all included in pistachios in good amounts. 

Vitamin B6, which is crucial for the functioning of the brain, is found in abundance in pistachios.



Serotonin is a neurotransmitter that regulates mood, sleep, and appetite, and vitamin B6 aids in the production of this neurotransmitter. 

Another essential vitamin for maintaining brain function is magnesium, which is also included in pistachios.



Magnesium can aid to enhance cognitive performance and regulate nerve activity.

Unsaturated fats, which are abundant in pistachios and may help decrease cholesterol and lower the risk of heart disease.

Antioxidants included in pistachios can aid in preventing damage to the heart.
According to research in the nutrition journal, those who consumed pistachios as part of a balanced diet had lower LDL (bad) cholesterol readings and higher HDL (good) cholesterol levels than those who did not.
Fiber is important for the health of the digestive system, and pistachios are a rich source of it. By giving stools greater weight and facilitating their easier transit through the intestines, fiber aids in the maintenance of a healthy digestive tract.
Prebiotics, a type of fiber that nourishes the good bacteria in the stomach, are also present in pistachios. For general health and well-being, a healthy gut flora is crucial.
The low-calorie Pistachio…
Though eating nuts have many benefits, they are high in calories, fortunately, 

Pistachio

 

is a low-calorie nut.

Along with proteins they also have higher composition of amino acids, which are essential for the body, and have to be consumed since the body can't make it on its own.

In addition to being high in antioxidants, pistachios may lower blood cholesterol and improve blood pressure, thus lowering your risk of heart disease.

Moreover, pistachios seem to lower blood pressure more than other nuts.
Benefits of Pistachios for Health
There are several health advantages to pistachios. 
They are an excellent source of protein, which supports the maintenance and growth of muscular tissue. Additionally, pistachios are a fantastic source of fiber, which can help you feel content and full after eating.

Moreover, antioxidants, which can help shield your cells from harm, are abundant in pistachios. Also, they are a good source of unsaturated fats, which might aid in lowering cholesterol.



Protein, fiber, and vitamin B6 are among the elements that pistachios are a beneficial source of for expectant mothers.

Protein is crucial for the fetus' growth and development, while fiber can aid with constipation, a typical issue throughout pregnancy.

Red blood cell synthesis and the growth of the baby's neurological system depend on vitamin B6.
Comparing Pistachios and Other Snacks
Compared to many other snacks, pistachios are healthier. Compared to chocolate bars or potato chips, they have fewer calories and fat.

They are also a fantastic source of fiber and protein, both of which may make you feel content and full.
Where to Buy Online Combo of Roasted and Salted Pistachios
We now know about the richness of health-boosting qualities provided by our loved Pistachios, but choosing meticulously, and keeping all concerns at heart is the appropriate way to live healthily. 
The Roasted and Salted Pistachios are incredibly delicious and healthy. Pistachios mixed and roasted in the Himalayan pink salt, which is known for its nutrient content, and boasting of numerous health boons, make together a must-have pack of this splendid delicacy. 
These subtly fried pistachios with zero oil make it all the more appreciable as an all-time healthy snack.
Buy Roasted Pista Online, at affordable prices and go healthy. These Dry Roasted Pistachios are a must-have and good to go with your cup of tea, with your savoring dishes, or just by the fistful!
These versatile Pistachios are perfectly suitable to be enjoyed on their own as a convenient, tasty, and healthy snack. Start eating them if you haven't, and continue enjoying them if you already are!
Frequently Asked Questions (FAQs)
1] An amount of pistachios has how many calories?
Pistachios provide 49 nuts per one-ounce serving or 161 calories.
2] Are pistachios acceptable for those following a diet plan to lose weight?
Yes, pistachios are a healthy snack option for those trying to lose weight. They are a calorie-efficient snack that might make you feel satiated and full.
3] Can pistachios aid with muscular growth?
Pistachios can indeed aid with muscle growth. They are a good source of protein, which is necessary for repairing and growing muscles.
4] Are pistachios potentially allergic in any way?
Yes, some people have pistachio allergies. Before consuming pistachios, it is crucial to discuss your allergy history with your doctor.
5] How can I include pistachios in my diet regularly?
Pistachios may be included in your diet in a variety of ways. You may cook with them, eat them as a snack, or incorporate them into trail mix.
6] From where I can buy BoYo Roasted and Salted Pistachio?
Customers can buy BoYo Roasted and Salted Pistachio from Amazon, Flipkart or from the official BoYo Store.
Conclusion
People of all ages may enjoy pistachios, which are a tasty and healthy food. They are a good source of fiber, vitamins, and minerals as well as protein. Pistachios are a healthy snack option for persons seeking to reduce weight or maintain a healthy weight since they are low in calories.