Say Goodbye to Junk Food with BoYo Healthy Snacks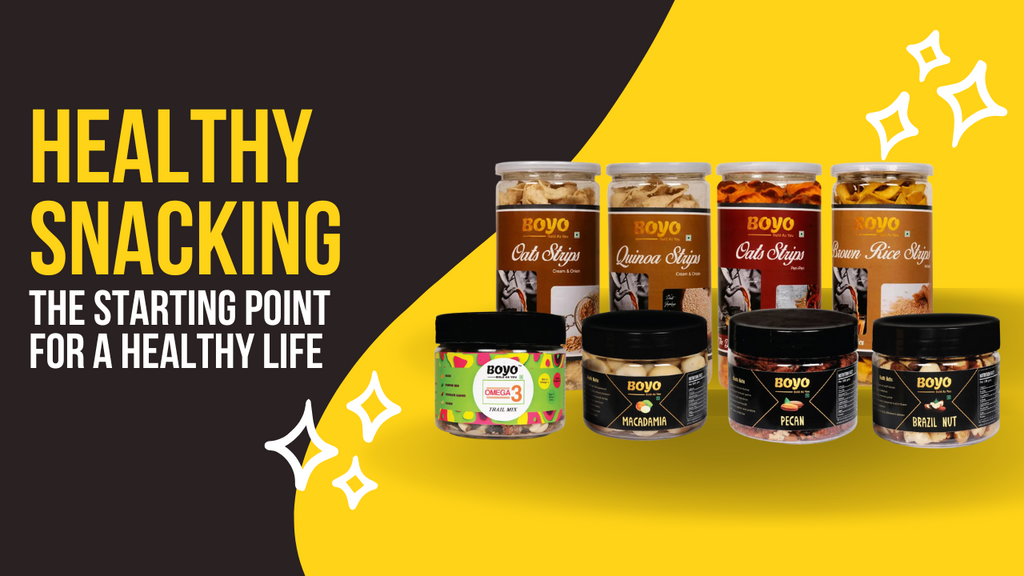 Struggling for a better lifestyle? Well, aren't we all! Choosing the best healthy lifestyle, is t as easy as it sounds to be. Of course, it's motivating, but to step in and start it, is a task in itself. We all are guilty of snacking unnecessarily on the all-time constant junk and fast foods, that are all readily available to us, at every point. There's no fuss, and there's no second thought. But is it just that? Does that stop there? Of course not!
Understanding the Impact of Junk Food
Our health is significantly impacted by junk food. It has an abundance of sugar, bad fats, and empty calories, all of which pose health dangers.
Junk food eating regularly has been related to diabetes, cardiovascular disease, and obesity.
Furthermore, the addictive qualities of these snacks might make it difficult to control desires and keep a healthy diet. The thing begins when this very ignorance and casual attitude takes a heavy toll on our health.
Diabetes, obesity, weak immunity, lethargic moods, indigestion, and many more serious concerns like cardiovascular risks, etc., come back to us, as a result of our silly choices, and lack of awareness.
So it's better to be careful rather than be left with regret. Snacking can't be and shouldn't be avoided, but what's essential is that we choose the right snacking alternatives. Something delicious, but also healthy and nutritionally rich, that makes them worth enjoying.
The Rise of Healthy Snacking
There has been a discernible trend toward healthier snack alternatives in recent years.
People are actively looking for alternatives to satiate their needs and are becoming more aware of their nutritional choices.
Snacking healthfully has several advantages, including supplying vital nutrients, assisting with weight control, and enhancing general well-being.
Introducing BoYo Healthy Snacks
A company called BoYo Healthy Snacks is committed to providing tasty and nourishing snacks for those who are concerned about their health.
Their goal is to offer a satisfying snacking experience without sacrificing flavor or quality. BoYo provides a variety of snacks so that everyone may find something they like.
BoYo your healthy snacks partner
BoYo's snacking ranges, are all here to leave you astounded.
Healthy sprout mixes, delectable trail mixes, juicy berries, fresh nuts, crunchy strips, yummy jaggery-coated Makhanas, and much more, will not only leave you satiated and happy but will also be your new chai time partners.
It's high time you ditch those roadside junk and try the most craved and best of all.
Any occasion or celebration will now be incomplete without some BoYo's snacks.


So be party-ready, or munch after a tiring day.
Be it your favorite movie, or that last over of cricket.
Give yourselves a treat with BoYo's delightfully delicious and yummy yet healthiest snacking ranges, that make you snack guilt free!
Snack freely, and step towards your healthy life goals of yours, now.
Key Features of BoYo Healthy Snacks
BoYo snacks are distinctive for the following reasons:
Natural and organic ingredients: BoYo snacks are manufactured with premium natural and organic ingredients, making them a healthier alternative to other types of snacks.

Low in sugar and bad fats: BoYo snacks are deliberately developed to be low in sugar and unhealthy fats, making them a guilt-free option. This contrasts with regular junk food.

Gluten-free and allergen-friendly alternatives: BoYo provides gluten-free and allergen-friendly snack options because it recognizes the value of accommodating dietary requirements.

High in fiber and key nutrients: BoYo snacks are a great source of fiber and nutrients that are important for general health.

Distinctive tastes and taste profiles: BoYo provides a wide range of distinctive flavors and taste profiles, making for an engaging snacking experience.
How BoYo Healthy Snacks Promote a Healthy Lifestyle
BoYo Healthy Snacks do more than merely sate your appetite. They are essential in fostering a healthy lifestyle since they:
Promoting portion control and weight management: BoYo snacks are carefully portioned to promote portion control and weight management.

Providing steady energy and avoiding collisions: BoYo snacks prevent the energy crashes sometimes associated with junk food by delivering continuous energy levels thanks to their carefully chosen components.

Improving general well-being and lowering health risks: By including BoYo snacks in your diet, you can lower your risk of developing chronic diseases and enhance your general well-being.
Incorporating BoYo Healthy Snacks into Your Daily Routine
The following are some ways that BoYo snacks can be included in your everyday routine:
Suggestions for snacks for various occasions: BoYo snacks are practical and simple to get hold of whether you're at work, school, or on the go.

Ideas for BoYo snacks at meals: Start your day with a healthful BoYo snack for breakfast, indulge in a filling alternative for lunch, or incorporate it into your supper menu.

Fueling up with BoYo snacks before and after exercise: The energy-boosting qualities of BoYo snacks will fuel your exercises and provide you the nutrition you need for a successful exercise session.
Frequently Asked Questions (FAQs)
1] What distinguishes BoYo Healthy Snacks from other brands?
BoYo Healthy Snacks stands apart because it is dedicated to excellence. They meticulously choose natural and organic ingredients to provide a healthy snacking option without sacrificing flavor.
2] Can people with dietary limitations eat BoYo snacks?
Absolutely! BoYo provides a variety of gluten-free and allergen-friendly snack alternatives because it recognizes the value of accommodating dietary constraints.
3] Can BoYo treats aid in weight loss?
Snacks like BoYo may be a great help when trying to lose weight. They encourage portion management and assist you in controlling your calorie consumption because they are correctly portioned.
4] Are BoYo snacks OK for children?
Yes, BoYo snacks are appropriate for kids. They provide a healthier substitute for conventional snacks, guaranteeing that your kids may indulge in sweets without endangering their well-being.
5] What stores sell BoYo Healthy Snacks?
Customers can buy BoYo Healthy Snacks from Amazon, Flipkart or from the official BoYo Store.
Conclusion
Deciding to purchase BoYo Healthy Snacks is a step toward giving up junk food and adopting a healthy way of life. Bo offers a variety of delectable and wholesome meals.
BoYo makes it simple to enjoy munching guilt-free. You may benefit from better well-being, weight control, and lowered health risks by including BoYo snacks in your regular schedule. BoYo Healthy Snacks are here to replace unhealthy snacks.