BoYo Snacks: A Delicious Way to Stay Fit and Active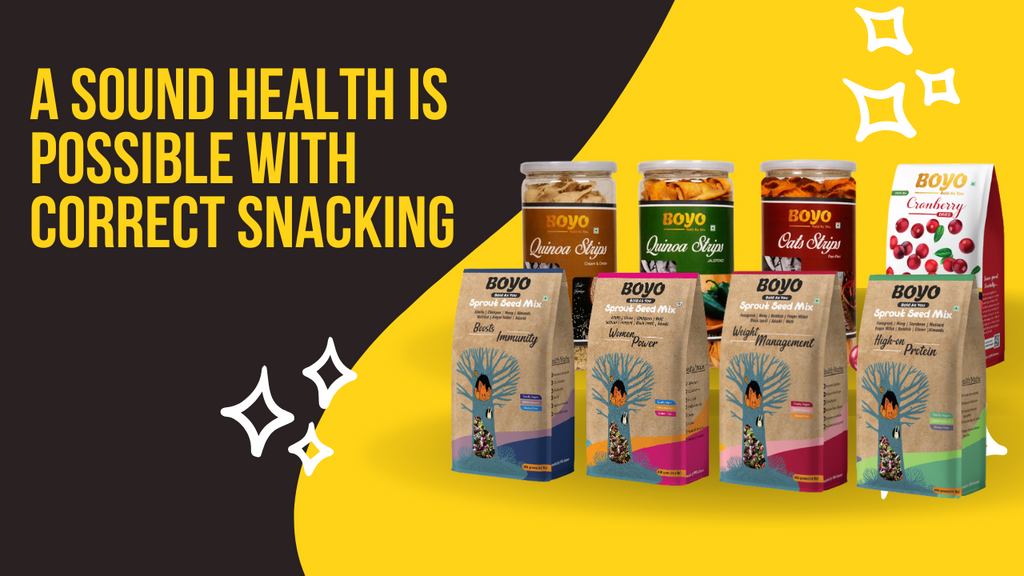 An active lifestyle and good health are something that is in all our "goals to achieve". It is something that we all dream about, but find certainly complicated to get. After all, who said good things comes just like that!
We all know the dietary requirements of our bodies, yet we are often not so concerned about the well being of ours. The overwhelming atmosphere and busy schedules of everyday lifestyle make us all work continuously, without giving a second thought to our health and requirements. And in such circumstances, snacking becomes an essential part of our lives. Be it office or your couch, outdoors, at parties, or just Netflix and chill, snacking is definitely what we are incomplete without.
BoYo Snacks: A Healthy Alternative
BoYo Snacks have been a game-changer in the search for healthy snack choices.
These snacks are created from a special mixture of ingredients that combines yogurt's health advantages with the deliciousness of strong tastes.
BoYo Snacks are a great option for people who want to have a balanced diet because they are not only high in protein but also high in important vitamins and minerals.
The Ideal Blend of Nutrition and Taste
The ability of BoYo Snacks to achieve the ideal balance between flavor and nutrition is one of the main factors contributing to its appeal.
These snacks are available in a wide range of mouthwatering flavors to suit diverse tastes.
There is a BoYo Snack taste for everyone, whether they want something sweet or savory.
Additionally, they use premium ingredients, so you get the best of both worlds without sacrificing your health objectives.
How to Fuel Your Workouts with BoYo Snacks
Are you trying to find a pre-workout snack that will provide you the strength to achieve your fitness objectives?
BoYo Snacks is the only place to turn.
These foods, which are high in protein, may keep you fueled during your training session and help fuel your efforts.
BoYo Snacks are a great option for muscle building and recovery since they include both protein and carbs.
What are the benefits of consuming BoYo Snacks?
Below are some benefits which a user will experience after using and consuming BoYo Snacks and other products.
1] Boost Your Nutrient Intake
It can be difficult to keep a balanced diet at times, especially when trying to get all the nutrients you need each day.
A delightful and practical method to increase your nutritional intake is with BoYo Snacks.
Your body will receive a dosage of the vital vitamins and minerals it requires to operate at its best with each bite.
So, feel free to indulge in snacks with the knowledge that each delicious bite will fuel your body.
2] Take Charge of Your Cravings
Recognize that occasionally our appetites might overcome us.
Why not use BoYo Snacks to sate your desires rather than choosing bad options?
Thanks to their protein content, these snacks are made to keep you feeling full and satisfied for extended periods of time.
You can control your desires and stop unneeded munching by introducing BoYo Snacks into your snack routine, which will eventually assist you in maintaining a better diet.
3] Support in Weight Management Efforts
BoYo Snacks might be a useful addition to your diet plan if you're trying to lose weight.
They are a wise alternative for people looking to lose a few pounds due to their high protein content and low calorie profile.
You may achieve a calorie deficit while still indulging in tasty treats by substituting calorie-dense snacks with BoYo Snacks.
Remember that maintaining a healthy weight requires making better decisions without feeling deprived.
4] Boost Gut Health
To be healthy generally, one must have a healthy stomach.
With its yogurt-based recipe, BoYo Snacks can support a more beneficial gut microbiota.
Yogurt contains probiotics, which are believed to maintain healthy gut flora and improve digestion.
Regularly eating BoYo Snacks will help you maintain a healthy digestive tract.
Frequently Asked Questions (FAQs)
1] Can people with dietary limitations consume BoYo Snacks?
Yes, those with dietary limitations can eat BoYo Snacks. They don't have any artificial ingredients or preservatives and are gluten-free. Checking the product label for particular allergy information is always a good idea, though.
2] Are BoYo Snacks suitable for vegetarians to eat?
Absolutely! BoYo Snacks are suitable for vegetarians because they are prepared with yogurt and plant-based components.
3] Are BoYo Snacks only for fitness enthusiasts?
BoYo Snacks are a great option for fitness fanatics, anybody looking for a tasty and healthy snack may also enjoy them.
4] Where can I find BoYo Snacks?
Customers can buy BoYo Snacks from Amazon, Flipkart or from the official BoYo Store.
5] Do BoYo Snacks have more sugar in them?
Small amounts of sugar are added when making BoYo Snacks. Fruit extracts and natural components are primarily responsible for its sweetness.
6] Can a child's diet include BoYo Snacks?
BoYo Snacks are a terrific supplement to a kid's diet, no doubt about it. To make sure that the snacks meet the child's unique nutritional requirements, it is always a good idea to speak with a physician or nutritionist.
Conclusion
BoYo Snacks offer a delicious and nutritious way to stay fit and active. With their unique blend of flavors and high-quality ingredients, these snacks have quickly become a favorite among health-conscious individuals.
Whether you're looking to fuel your workouts, boost your nutrient intake, or simply satisfy your cravings guilt-free, BoYo Snacks have got you covered. So, grab a pack of BoYo Snacks today and embark on a tasty journey toward a healthier lifestyle.